After I order from you, how long will it take for my package to arrive?
Most of our products are shipped from our warehouse in Ontario, CA. The transit time is between 1 to 6 days, depending on what state your address is in. Refer to the picture below for estimated times:
If you place an order before 3 PM PST, the order will ship out on the same day.
DRAM, storage devices, and most PC gaming systems are shipped from our factory in Taiwan. Such shipments usually arrive in the US within 4 to 5 days.
Can I get express shipping?
Yes, you can select express shipping as a shipping option during checkout.
How do I tell how much shipping will cost?
Your shipping cost will be displayed once you go through the checkout process at the Webstore.
Depending on the size and weight of the product, the flat shipping fee ranges from around $10 to $70.
What shipping method is used to deliver my order?
By default, we use UPS Ground to deliver our products to you.
For DRAM, storage devices, and most PC gaming systems, we use FedEx International Economy to ship our products from Taiwan to your address.
If I decide I don't want the product after all, how do I return it?
If you decide that you don't want the product after all, there are three things you can do:
Refuse delivery when the carrier comes to your residence. This will not cost you anything.
Return the unopened box to the carrier location (e.g. a UPS store). This will not cost you anything.
Contact Corsair Customer Service to create an RMA order. You will be responsible for shipping the package back to Corsair.
How can I retrieve a copy of my invoice?
Your invoice can be accessed from the Order Details page by hovering over the invoice number and clicking it — it is not readily apparent that the link is clickable. There are two ways to reach the Order Details page:
In the Order Confirmation email that was sent to you, click the link for "Delivery Information":


This is the only method available if you chose to check out as a Guest during your purchase at Corsair.com.
If you have an account at Corsair.com, you can log in by visiting https://www.corsair.com/login and selecting My Orders from the list of links on the left, then clicking on your order.

Once you are on the Order Details page, click on the invoice number next to the tracking information in blue:

The invoice for your order will open as a dropdown panel. If you like, you can click the link "Print this page for your records" to print the invoice.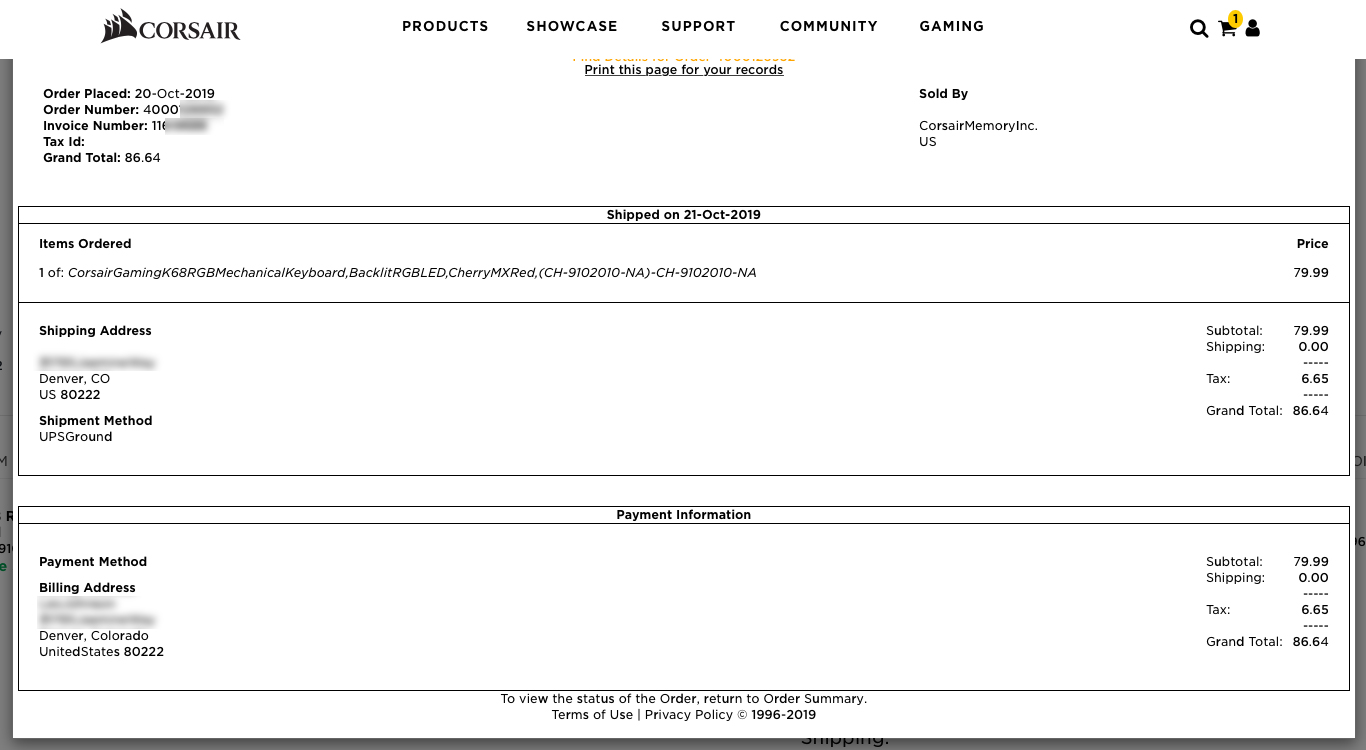 Can I get tax/VAT exemptions and refunds?
Corsair's Webstore does not support applying tax/VAT exemptions or refunding any tax/VAT that was paid, regardless of the payment method used (Credit Card, Amazon Pay, etc.).
If you are a reseller, tax-exempt individual or entity requesting a tax/VAT exemption, you will need to purchase Corsair products via distribution in your local country, or at a retailer that supports tax exemptions. For purchases of larger volume, please contact Corsair Business Sales at https://www.corsair.com/company/contact/?form=Business%20Sales.
Corsair Customer Service cannot help with tax/VAT issues or bulk sales requests. Make sure you contact Corsair Business Sales for those issues.