How to: Use our Custom Cooling Configurator to design your custom loop
Need help figuring out what parts you need to design your own custom loop? We have an online tool that can help you find and purchase your ideal configuration: the Custom Cooling Configurator.
The Custom Cooling Configurator is updated weekly for compatibility with new components.
Video instructions
Choosing your configuration
To use the Custom Cooling Configurator, you will need to provide information on some components that you have or plan to use for your PC. Some information is optional, but providing this information helps the Configurator better figure out your needs.
After entering information into the Configurator, you will be presented with three different configurations to choose from. You can still make adjustments after selecting a configuration. The configurations are:
Pro: Offers an entry-level custom cooling solution, ideal for first-time users
Elite: Offers balanced configuration for typical cooling loops, targeted at experienced users
Platinum: Offers top cooling performance and additional accessories
To choose your configuration:
Go to the Custom Cooling Configurator.
Click the DESIGN YOUR LOOP button.
Select the PC case that you have or plan to use.



Select the motherboard model you have or plan to use.


(Optional) If you have it, provide the CPU model to help the Configurator calculate cooling performance.

Select the GPU type and brand of the graphics card you have or plan to use.

Make sure to specify how many graphics cards you have if you use more than one.

Select the M.2 SSD you have or plan to use.

NOTE: If you do not see a screen asking you to select an M.2 SSD, it means that the motherboard's M.2 SSD location is incompatible with an M.2 SSD water block.

Select the configuration that best fits your budget and skill by clicking CUSTOMIZE under your desired configuration.

You can click SHOW DETAILS near the page bottom to see a list of components.

After selecting a configuration, you will be taken to a new screen where you can specify what components you want in your custom loop, such as water blocks, fans, and add-ons. You can then add these components to a cart for online purchase.
When specifying parts, you can select DETAILS to see more details about each part.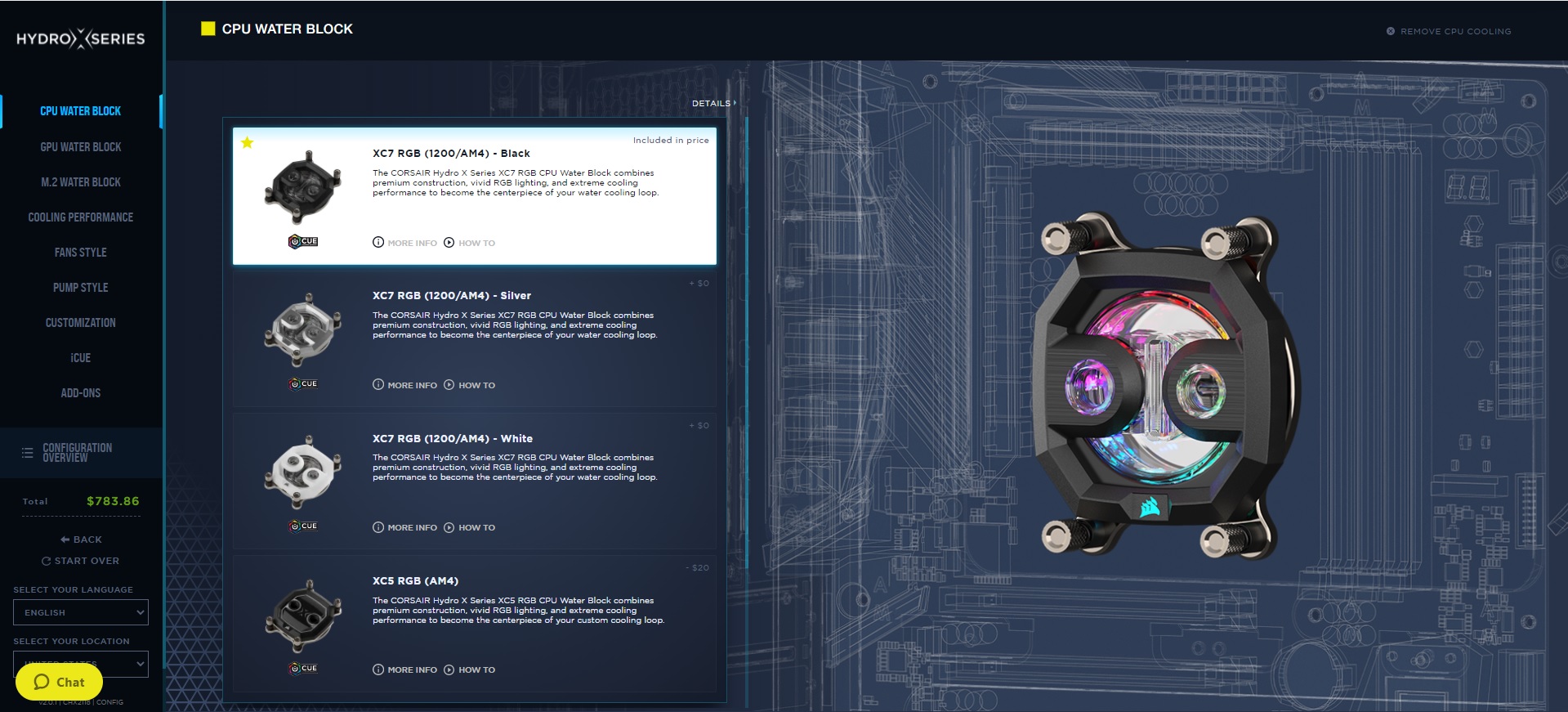 If you need to change what configuration you want or any information you provided, you can click BACK to go back to the configuration selection screen, or click START OVER to start over from scratch.