Only one fan or lighting strip will illuminate when initially connected to your Commander Pro or Lighting Node Pro. You will need to set them up in iCUE in order for all fans to illuminate.
NOTE: If you connect 6 QL fans and 4 RGB LED strips to the Lighting Node Pro, you will only be able to select and customize the fans in iCUE.
Open the iCUE software.
Select your Commander Pro or Lighting Node Pro on the Home screen.


Select "Lighting Setup" on the left.


At the bottom of the screen, you will see two items labelled Lighting Channel 1 and Lighting Channel 2. These are the two connectors on your Lighting Node Pro or Commander Pro labelled LED 1 and LED 2 that correspond to these. Select the drop-down box next to the Lighting Channel you have your devices connected to, and switch them to either SP RGB Fans, HD RGB Fans, LL RGB fans, ML RGB fans or Lighting Strips.
In the second drop-down box, select how many of each device is connected to your Lighting Controller.


To assign lighting to your fans/strips, you then must select the Lighting Channel you wish to control on the left.
Click the + symbol to add a lighting effect.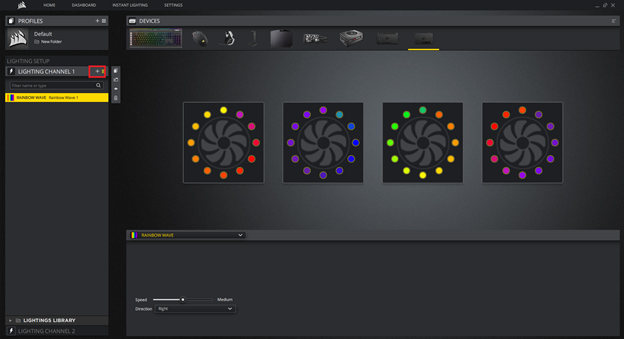 After following these steps, you should be able to select and customize the lighting of your RGB fans.