Setting Up Your Keyboards and Mice for XBOX ONE
Our licensed hardware partnership means that many of our peripherals are compatible with the Xbox One. If you are interested in bringing the same high-performance gaming experience that you enjoy on your PC to the Xbox One, read on.
Getting Started
While you can simply plug and play your mouse and keyboard into your Xbox One, we recommend configuring your peripherals on a PC with our iCUE software. In games that recently added mouse and keyboard support, you may experience some input latency as the developers fine-tune peripheral support, so the below steps will help ensure the best gaming experience.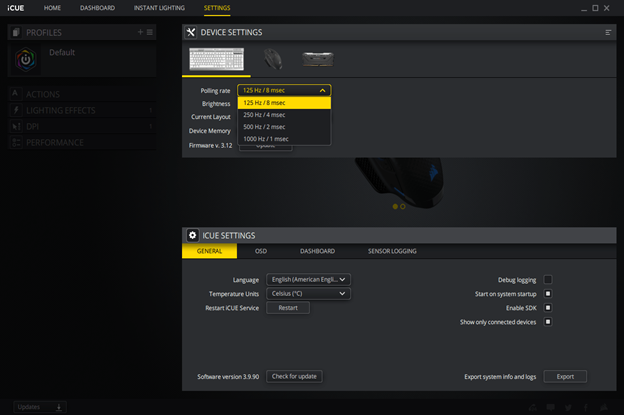 Install iCUE from corsair.com and open it
Note: If you already have iCUE installed, update to the latest version if prompted
Go to the settings panel and click the device you wish to modify for Xbox One
Click "Update" firmware to ensure your device is up-to-date
Click the "Polling rate" drop down box and select "125 Hz / 8 msec"
Note: This is recommended especially for mice to reduce visible lag in certain games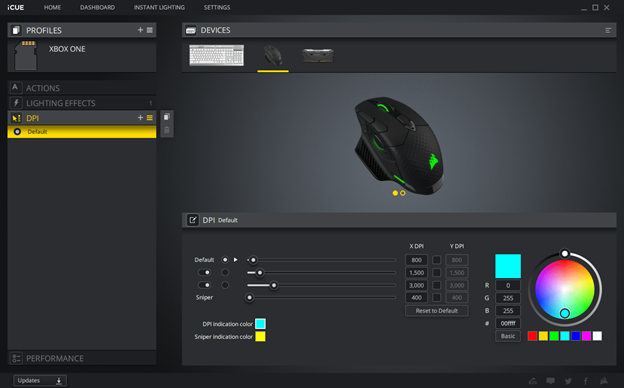 While in iCUE you may wish to configure your mouse sensitivity through the DPI tab on the left. If your mouse or keyboard have onboard storage for hardware profiles, you can also save lighting and other settings directly to your peripherals so that they're available to you when you're connected to your Xbox One console.
Going Wired
Connecting a set of wired peripherals to the Xbox One is simple. If your keyboard has a USB pass-through, plug both USB cables into the back of your Xbox One console and plug your mouse into the pass-through port. If you have a stereo CORSAIR headset such as the VOID Stereo and HS50, or a headset with a removable USB adapter such as the VOID PRO Surround and HS60, you can plug the three-pole 3.5mm jack directly into your Xbox One controller's headset port or the headset port on the back of the console to enable game audio and voice chat.
Going Wireless
Wireless peripherals such as the K63 Wireless keyboard and DARK CORE RGB Wired / Wireless mouse may also be used with the Xbox One. Ensure that both peripherals are in 2.4GHz wireless mode (not Bluetooth) and plug their respective wireless receivers into available USB ports on the Xbox One console
For best performance, use the provided USB cable adapter and the charging/data cable so that you can position the USB receivers in clear view of their respective peripherals. (For more information, check out our article on getting the best wireless performance).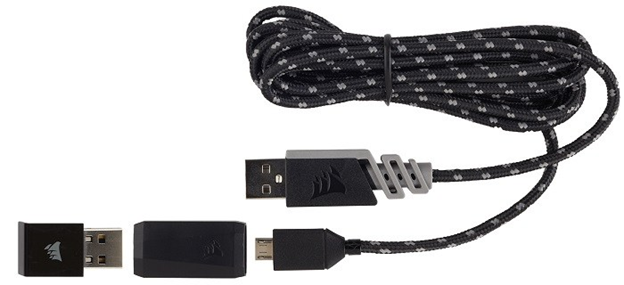 NOTE: DARK CORE currently supports Minecraft and an update will be released soon to enable better compatibility with other Xbox One games.
Going wireless allows for more flexibility, letting you clear your desk of unnecessary cable clutter, or allowing you to take advantage of our K63 Wireless gaming lapboard accessory.
The K63 Wireless gaming lapboard securely houses your K63 Wireless keyboard and provides a cloth gaming surface for the DARK CORE RGB mouse, providing the ultimate setup to enjoy gaming with a keyboard and mouse from the comfort of your couch.
Game On!
And that's it! We're excited to help bring the ultimate keyboard and mouse experience to the Xbox One. For more information, please make sure to check out our detailed compatibility list. Happy gaming!