What to do if your iCUE-enabled cooler does not light up
If your AIO cooler is not lighting up, check that all cables are attached to the cooler and plugged in. This includes the SATA power plug to your PSU and potentially a USB cable that connects to your motherboard.
Some third-party PSUs may not fully support iCUE-enabled coolers such as the iCUE Platinum and Pro XT Series AIOs due to lacking the +3.3V wire that the coolers rely on to power their RGB LEDs. Some SATA power extensions included with cases also turn out to be incompatible.
An example of an incompatible SATA connector:

An example of a compatible SATA connector: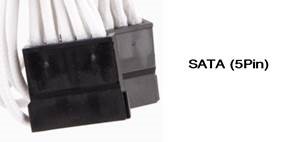 If you have an incompatible PSU or extension, use an alternative PSU or cable that complies to the full SATA power specification.
If you do not have a compatible PSU or cable, contact your PSU, adapter, or extension cable manufacturer for support in acquiring a properly specified SATA power cable.
If you confirm that you have the correct PSU cables, the cooler is plugged into the required USB port, and the cooler still does not light up, contact our support team for further assistance.