Integrating CORSAIR iCUE with your Windows 10 Game Bar
The CORSAIR iCUE Game Bar Widgets app is an app that lets you select custom profiles and change custom lighting in the Windows 10 Game Bar.
The Windows 10 Game Bar is a dashboard built into Windows 10 that lets you monitor your system performance, configure audio settings, capture video, and more. You can access the Game Bar by pressing Windows Key + G or pressing the home button on a connected XBOX controller.
Before integrating CORSAIR iCUE with your Windows 10 Game Bar, make sure that:
You are running iCUE version 3.30+ or newer
SDK is enabled in your iCUE settings

Downloading the app
The CORSAIR Game Bar Widgets app can be downloaded for free in the Microsoft Store. You can also download it through the Widgets Store in the Game Bar menu.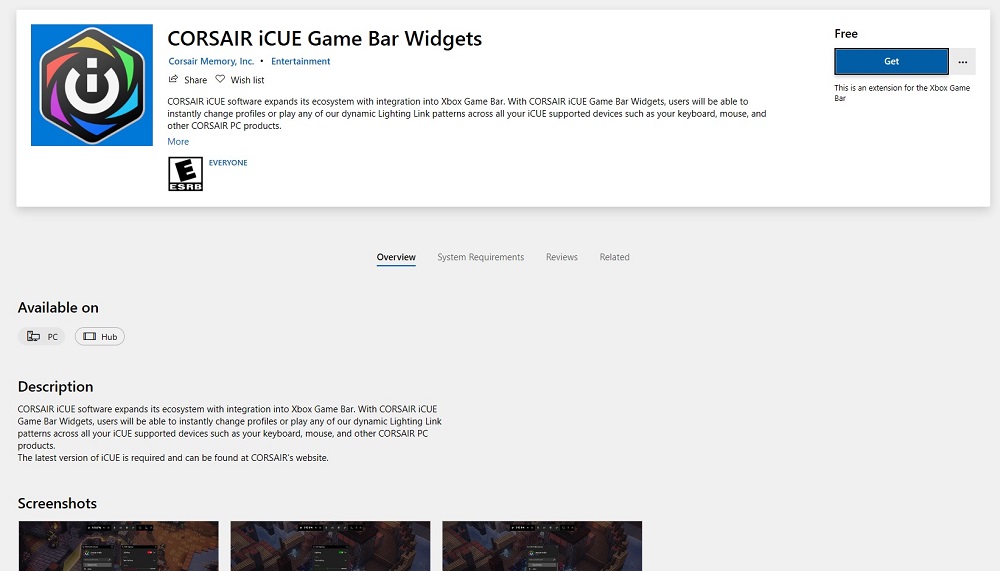 Changing lighting and profiles
Once you have downloaded the CORSAIR Game Bar Widgets app, you can use the iCUE Lighting Widget and the iCUE Profile Selector Widget whenever you access the Game Bar.
The iCUE Lighting Widget lets you select a dynamic lighting link effect across your iCUE-compatible hardware and peripherals. Your selection will only override the lighting of whatever iCUE profile you have currently set.
The iCUE Profile Selector Widget lets you switch your current profile to any custom profile you have saved in iCUE currently.