Product information: VIRTUOSO RGB WIRELESS High-Fidelity Gaming Headset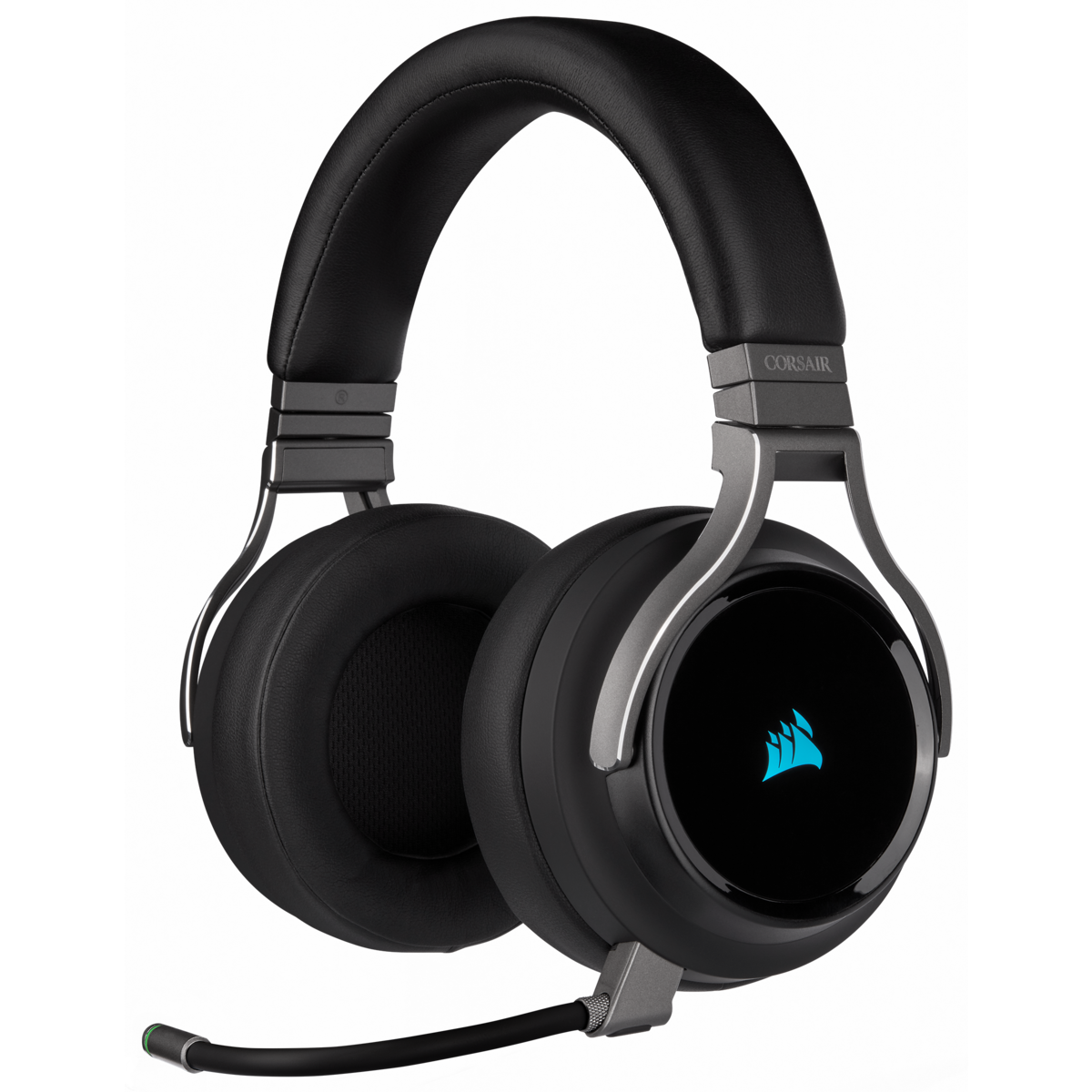 Tech specs
| | |
| --- | --- |
| Audio CUE software? | Yes |
| Surround sound? | Yes |
| Detachable microphone? | Yes |
| Rechargeable battery? | Yes |
| Headphone frequency response | 20Hz - 40Hz |
| Headphone battery life | Up to 20 hours |
| Headphone sensitivity | 109dB (+/- 3dB) |
| Headphone wireless range | Up to 60 feet |
| Impedance | 32 Ohms at 2.5 kHz |
| Headphone type | Wireless |
| Headphone connector | USB wireless receiver |
| Headphone drivers | 50mm |
| Model | VIRTUOSO Wireless |
| Audio | 7.1 Surround |
| Lighting | RGB |
| Platform | PC and PlayStation 4 |
| Microphone Impedance | 2.0k Ohms |
| Microphone type | Omnidirectional |
| Microphone frequency response | 100Hz to 10kHz |
| Microphone sensitivity | -40dB (+/- 3dB) |
Features
Three ways to connect
The VIRTUOSOS RGB WIRELESS headset has three main ways to connect: Slipstream wireless, USB wired, and 3.5mm wired.
The Slipstream wireless connection uses Intelligent Frequency Shift (ISF) to ensure the strongest signal possible and has a range up to 60 feet. The headset is compatible with the PlayStation 4 and PC.
Broadcast-grade detachable microphone
The VIRTUOSO RGB WIRELESS headset comes with a detachable microphone with an LED ring that indicates whether the microphone is currently live or mute.
Smart sleep and wake
The headset uses an internal accelerometer that automatically shuts down the headset when you put it down, and automatically powers it back on when you put it back on your head.
7.1 surround sound
Your VIRTUOSO headset provides 7.1 surround sound to help make your gaming experience more immersive.
NOTE: 7.1 surround sound is only available on the PC.
Rechargeable battery
The headset uses a custom high-capacity lithium-ion battery with up to 20 hours of life when in wireless mode. When recharging in USB mode, you can continue using the headset as it charges.
iCUE compatibility
You can use iCUE to customize the lighting of your headset, configure custom equalizer settings, select from pre-tuned audio profiles, control the sidetone, and more.
Troubleshooting links