How to: Set up CORSAIR DDR5 memory in iCUE
Need help setting up your DDR5 memory in iCUE? We have a guide and video to help you out.
Make sure iCUE is updated to version 4.17 or newer. Older versions of iCUE do not support DDR5.
NOTE: The Custom XMP Profile feature is not currently implemented into iCUE. If you want to try the feature, you can download the iCUE version with the XMP Manager feature preview on the Downloads tab of the product page. This feature is currently only compatible with DDR5 Gigabyte and ASRock motherboards.
Requirements
Before you begin setup, make sure to do the following first:
Check if your motherboard and processor support DDR5 technology
Go into your motherboard BIOS and apply XMP and enable the SPD Write setting
Once you have done the above, you should be able to select your CORSAIR DDR5 memory on your iCUE home screen. From here, you can customize your memory to best suit your needs.
Customizing XMP
With iCUE, you can create custom XMP profiles to tailor performance for specific apps and tasks. Support for custom XMP will vary depending on what type of motherboard you are using.
Please be aware that XMP is a form of overclocking, and creating a custom XMP profile runs the risk of introducing instability to your system. iCUE will display a disclaimer; make sure you read this and click I Consent in order to continue with customizing XMP.
Custom XMP profiles also must be applied in BIOS after their creation.
Click the + button in the XMP section to create a new XMP profile.
Customize the settings as you desire in the User Profile Settings section.

Monitoring cooling
If you go to the Cooling tab, you can see the current temperature and voltage readings of each memory module. If you want the readout to be available on your iCUE Dashboard, you can click the menu icon on the specific sensor you want and then click Add to Dashboard.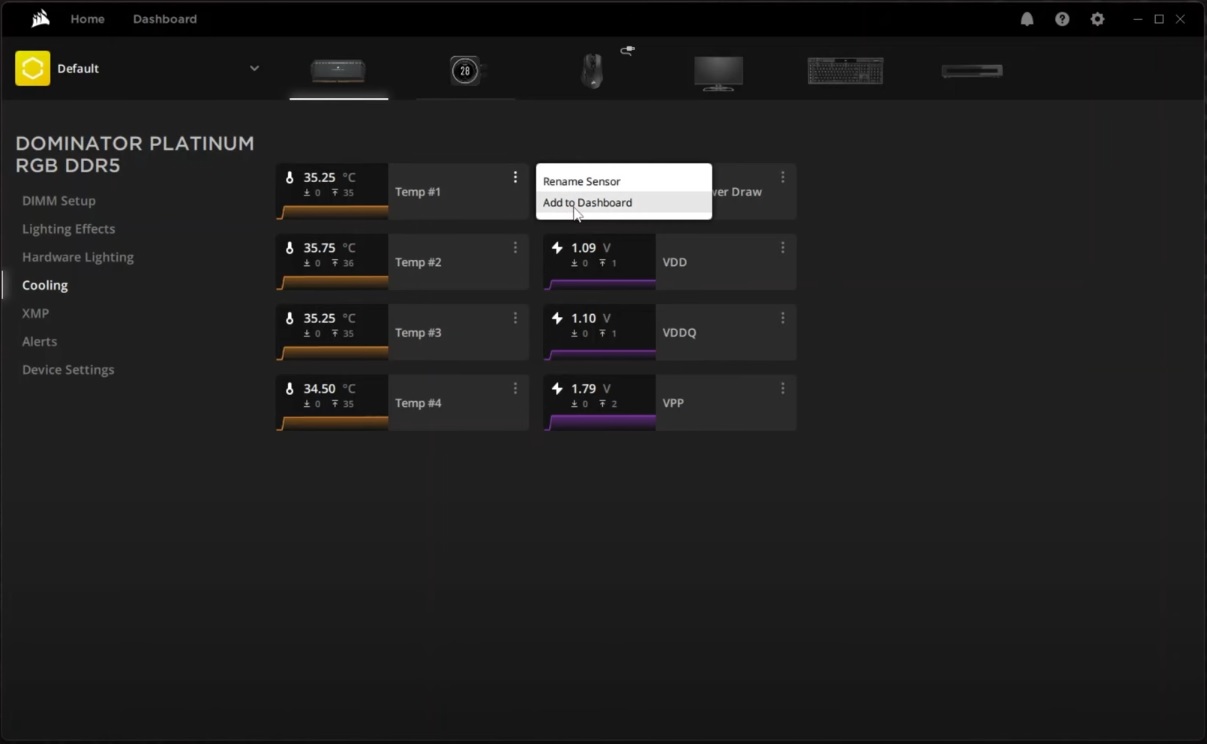 Setting alerts
In iCUE, you can set certain behaviors to trigger when your memory modules reach a specified temperature, such as initiating an emergency shutdown if the temperature goes up too high.
Select the Alerts tab.
Click the + button in the Alerts section to create a new alert.
Customize the action you want to be carried out when a certain temperature is reached.
On the memory module sensor, click the dropdown menu and select an alert to set it.

Customizing lighting effects
If your CORSAIR DDR5 memory modules come with RGB LEDs, you can use iCUE to customize and synchronize the lighting effects.
You can also set up hardware lighting effects in the Hardware Lighting tab. Hardware lighting effects will play when iCUE is not running, such as when your system is booting up or when your computer is locked.
To create a lighting effect:
Click DIMM Setup.
Adjust the layout of your modules so complex lighting effects will playback properly.

NOTE: One way to ensure proper playback is to go to the Lighting Effects tab and apply a sequential lighting effect to play across all modules, then go back to DIMM Setup to adjust as necessary.

Go to the Lighting Effects tab.
Apply whatever lighting effects you want for your memory modules.

Video instructions