How to Avoid Current Overload/Connector Issues
Cable Spec:
A single 8-pin connector's maximum current rating is up to, and sometimes more than 24A (288W at 12V). However, the connection at the GPU is only rated for 75W (6-pin) and 150W (8-pin) total for graphics card power. Therefore, it is not recommended to use a single cable that splits into two 8-pin PCIe on higher end graphics cards. Damages or malfunction resulting from the use of a graphics card or expansion card with a single PCIe 8pin connector that can potentially exceed standard total power draw may void your power supply's warranty.
DISCLAIMER! Please use only cables provided by CORSAIR! Should you require additional assistance, please contact CORSAIR Support.
Peripheral (molex) or SATA connector's maximum current rating is 5A, total 60W (+12V x 5A) or 25W (+5V x 5A). Please ensure connected devices are operating under these limits. Malfunctions resulting in misuse may void the warranty.
24pin motherboard connector's maximum current rating for its dual +12V metal pins are 5A each, which totals 120W (+12V x 5A x 2). Please ensure +12V drawing devices connected to the motherboard are operating under these limits. CORSAIR will not cover damages or malfunction resulting from usages exceeding these connectors and their associated cables. When the connector pin is overloaded beyond its rated current capacity for a period of time, it will start to discolor. Continued use may result in melting of the pin and connector which may void warranty.
Example of connector damage: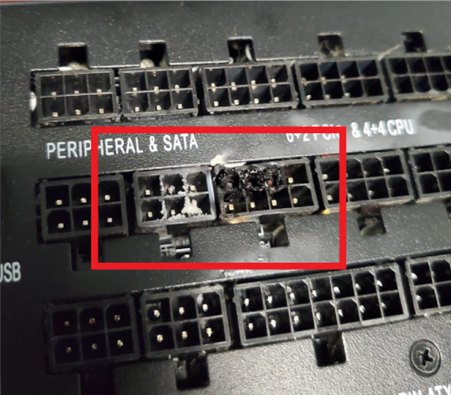 How to Properly connect PCIE Cables to your Graphics Card
Ensure that the PCIE cable is seated properly into the graphics card. You should hear a "click" indicating that the cable has been plugged in properly. Poor contact with the pin on the card may cause damage.
When connected properly your card should look like this: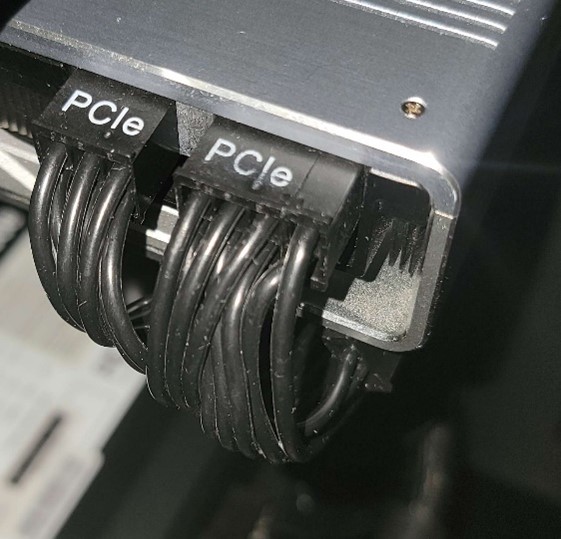 When connected properly the PSU end should look like this: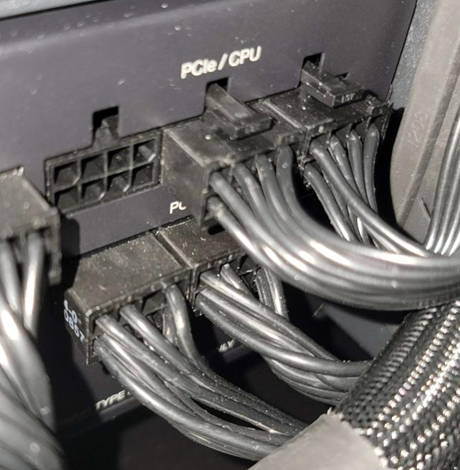 Damage because of poor contact with the PCIE cable may result in melting:
12VHPWR cable & 4000 Series Recommendations
With the recent announcements of new high-performance graphic cards requiring 12VHPWR connectors, it's important to note the following information:
The RTX 4000 series cards uses a new 12+4 pin 12VHPWR power connector, all cards will ship with a PCI-e 8-pin power to 12VHPWR adapter. CORSAIR's power supplies already support the higher power needs of the next generation of PC hardware.
Additionally, you can also order our official CORSAIR 12VHPWR 600W cable compatible with all CORSAIR type-4 PSUs, connecting directly to the PSU via the existing PSU-side connectors for power straight for your new graphics card
All Type-3 and Type-4 PSUs should be able to utilize the new CORSAIR 12VHPWR 600W cable as the only difference between Type 3 and Type 4 cables is the pinout of the 24-pin ATX cable; all other cables (SATA, PCIe, etc) are the same. Note that this cable is not compatible with any of our PSU's that require their own dedicated cables. Power Supplies like AX GOLD series PSUs are not compatible. Please ensure that you reference the PSU compatibility table for which Power Supplies are compatible with the new CORSAIR 12VHPWR cable.
DISCLAIMER! The CORSAIR 12VHPWR 600W cable is not compatible with NON-CORSAIR PSUs.
Recommendation on how to use our 12VHPWR cable
BOTH 8-pin connectors must be plugged in at all times to your power supply.
All connectors must be correctly INSERTED, CLICK-LOCKED and TIGHT.
DO NOT bend the cable in any direction once it is plugged into place.
DO NOT bend or apply force to the cable too close to the connector.
Improper use and malfunctions may void the warranty.
Proper Contact Examples: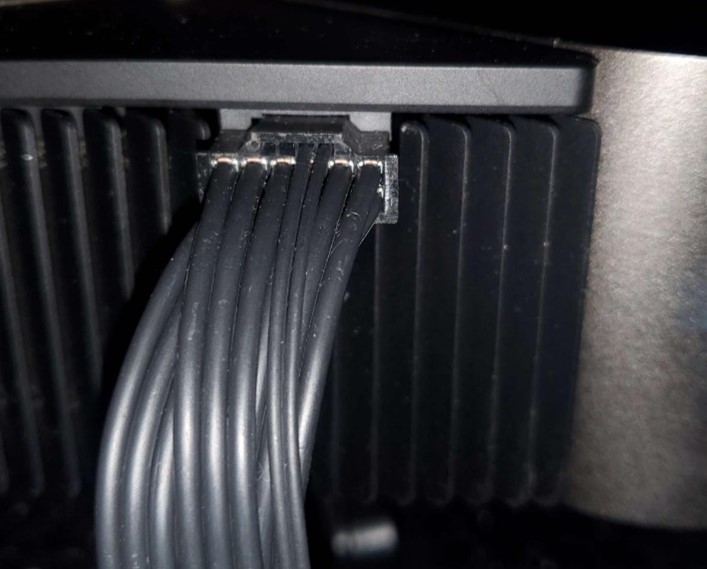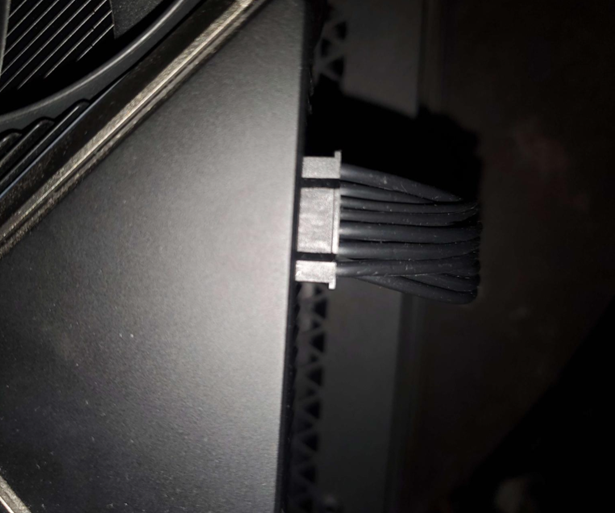 Should you have any questions regarding the use of our power supplies or cables please contact CORSAIR Support.