Does the MP700 require dedicated cooling?
Yes. A dedicated cooling solution is required for optimal performance. We recommend utilizing your motherboard's NVMe slots which provide heat dissipation with their built-in heatsink. If you are using a custom watercooling solution we recommend our XM2 waterblock.
Is the MP700 backward compatible with previous PCIe storage generations?
Yes, the drive will work with previous generations. The maximum speed will be limited to the speed supported by that motherboard.
Which controller is used on the MP700?
The MP700 uses a Phison E5026-E26 controller.
What is the form factor of the MP700?
The form factor of the MP700 is M.2 2280.
Which storage capacities are available?
The MP700 is launching with both a 1TB and 2TB option.
What is the warranty length for the MP700?
We offer a comprehensive five-year warranty.**
Does the MP700 support Microsoft DirectStorage?
Yes, the MP700 supports* Microsoft's DirectStorage feature.
DirectStorage is a Microsoft technology designed to help games load faster by as much as 200%.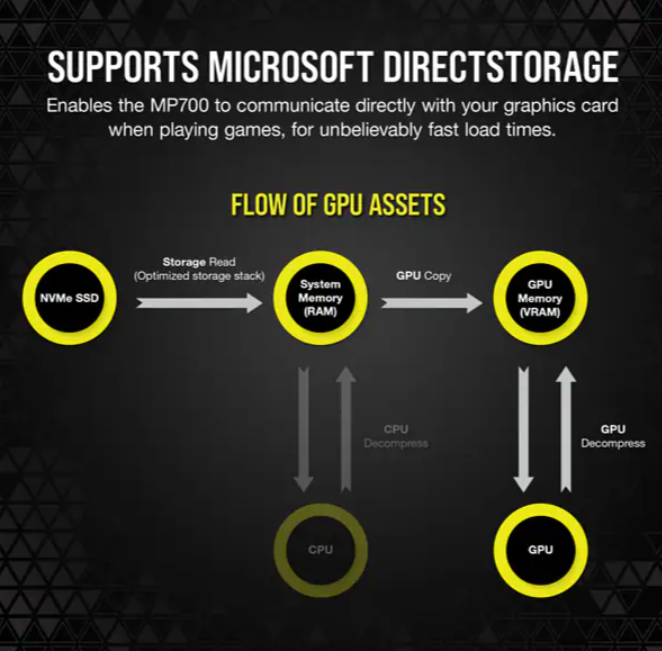 What is new in Gen5 drives?
Gen5 SSDs offer wide compatibility and can perform up to double the interface bandwidth of Gen4 drives.
Can I use the MP700 in older motherboards?
Yes, the MP700 is backwards compatible with motherboards that have Gen4 and Gen3 NVMe slots.
*DirectStorage requires a DirectX12 GPU with Shader Model 6.0 support
**Warranty is five years from purchase or an endurance of 700TBW (1TB) 1400TBW (2TB), whichever comes first