How to: Set up and manage profiles in iCUE 4
Need help setting up profiles in iCUE version 4? We have a video and guide to help you out.
Video instructions
Creating a new profile
To create a new profile:
Expand the profile trail on the left menu of the home screen.
Click the + button.



Name your new profile.
Set a profile icon for the new profile.
(Optional) If you want this profile to activate whenever you open an application (e.g. a computer game), click the + button next to Linked App and select the application.



Click the + button next to Background Image or Video to set a custom background for your profile.
Creating a profile switch
If you have multiple profiles, you can create a profile switch and assign it to a mouse button or a key on your keyboard. This allows you to cycle between profiles with a simple tap of a key or press of a mouse button.
To create a profile switch:
Mouse over your mouse or keyboard in iCUE.
Click Key Assignments.
Click the + button in the Assignments section.
Select the Profile Switching icon in Assignment Type.



In the Profile Switching section, select if you want a Single Profile or a Profile List.
Select the profile(s) you want included in profile switching.

If you assign multiple profiles, you can drag and drop to reorder them in the rotation list.




Select the mouse button or keyboard key you want to assign the profile switching to.
Click Copy on the lower right corner to apply the changes to all profiles that you have added to the rotation list.

Managing your profiles
Once you have created a profile, you can edit it by selecting the profile and then clicking the menu button next to it.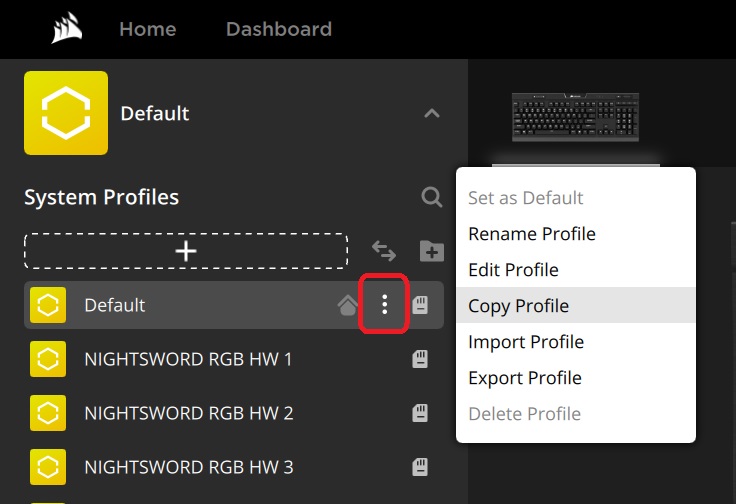 You can then:
Set the profile as your default profile
Rename your profile
Make changes to your profile
Copy the profile
Import or export profiles
Delete the profile
If you have multiple profiles and want to organize them, you can click the folder icon to create a folder and then drag and drop profiles into it.