Corsair mice offer a variety of additional buttons beyond the basic left and right click. These buttons have been preset with useful functions, but the real power comes from configuring them to your specific needs using the Corsair Utility Engine (iCUE). Typically, to bind your mouse buttons to in-game controls, you will need to use the remap key action.
Follow the instructions below for an example of how this works:
Open iCUE.
Click the Home menu.
Click the icon for the mouse you wish to configure under "Devices."
Click the Actions menu on the left to expand.
Click the + button on the Actions menu
From the center drop-down menu, change "MACRO" to "A-Z KEYS" under "REMAP."
Click the circle next to "P."
To the left of the image of your mouse, click the button labeled "Back."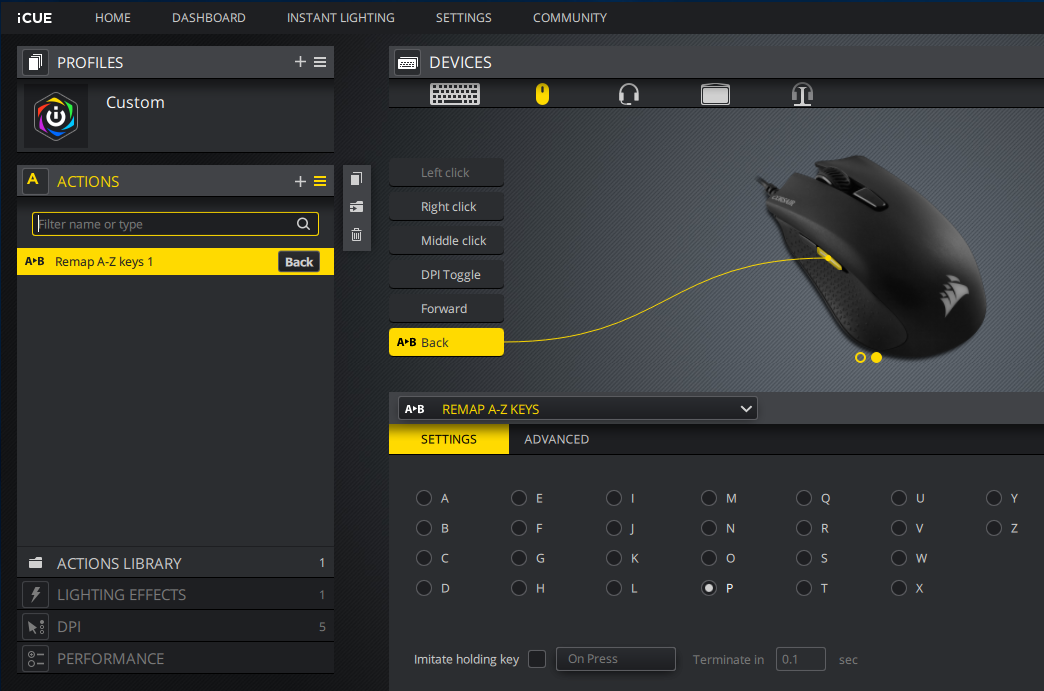 If everything was done correctly, there should be a new action called "Remap A-Z keys #." You can quickly test your configuration by clicking into the search bar in the actions menu and pressing the back button, which should type "p" into the field.
From there, you can visit the controls menu in your game and bind whatever you want your button to do onto the P key.
This example just scratches the surface of iCUE's configuration power, we welcome you to bring more advanced questions to our forums or customer support team.